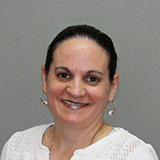 Ayme Barreras
Clinical Documentation Specialist
---
Mrs. Barreras is a Certified Risk Adjustment Coder (CRC) for PrimeCare, LLC. Graduated of Doctor of Medicine in August 2004 at the Higher Institute of Medical Sciences Carlos Juan Finlay, Camaguey, Cuba. Graduated of Internal General Medicine Specialist in June 2007 and Intensive Care and Medical Emergencies Specialist in 2008 Cojedes, Venezuela. Completed Cuban internationalist medical mission for 7 years in an Intensive Care Unit and Emergency Center at Aragua, Venezuela.
Within the company she is performing providers chart review for clinical documentation improvement purposes.
Completed Certified Pharmacy Technician with 2 year experience. She has been working for PrimeCare for about two years as Certified Risk Adjustment Coder, clinical documentation improvement.
Ayme Barreras, M.D.
Clinical Documentation Improvement Specialist
Address: 1214 Mariner Blvd., Spring Hill, FL 34609
Phone: 352-796-9994
Fax: 352-796-9934