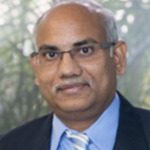 Ravi Duggirala, MD
Internal Medicine - Dale Mabry Center of Internal Medicine
---
Dr. Ravi Duggirala obtained his medical training at Katatiya Medical School and completed his residency at Mahatma Gandhi Memorial Hospital in India, and Bronx Lebanon Hospital in New York.
The Belcher Point Center of Internal Medicine office is open Mon-Fri and specializes in same day appointments. Labs are done on the premises, and the office accepts a variety of insurances. The staff at Belcher Point Center of Internal Medicine speak Spanish and Italian as well as English.
Dr. Duggirala is affiliated with Mease Countryside Hospital and Mease Dunedin Hospital, and Dr. Duggirala is Board Certified in Internal Medicine.
Practice Location:
Dale Mabry Center of Internal Medicine
11017 North Dale Mabry, Suite B
Tampa, FL 33618
Phone: 813-962-4888
Fax: 813-962-4882