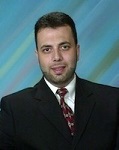 Mohammad Joud, MD
Internal Medicine - Hernando Medical Inc.
---
Dr. Joud received his medical training at the University of Tichreen in Lattakia, Syria.
He has completed his residency at Spectrum Health Downtown Campus in Grand Rapids Michigan. He specializes in Internal Medicine and is Board Certified in Internal Medicine.
Practice Location:
12900 Cortez Blvd., Suite 202
Brooksville, FL 34613
Phone: 352-597-8844