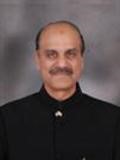 Humayun Shareef, DO
Internal Medicine - Humayun Shareef, M.D., P.A.
---
Dr. Shareef graduated from the New York College of Osteopathy, and completed his internship at the Mainonides Medical Center in Brooklyn, NY.
Dr. Shareef also completed his residency at Mainmonides Medical Center, specializing in Family Practice.
Dr. Shareef holds staff privileges at Lawnwood Regional Medical Center in Fort Pierce, FL.
Practice Locations:
1)2401 First Blvd., Suite 1
Fort Pierce , FL 34950
Phone: 772-465-6979
Fax: 772-465-4288
2)320-322 NW Bethany Dr.
Port St. Lucie, FL 34986
Phone: 772-807-8773
3)601 7th Street
Fort Pierce, FL 34950
Phone: 772-468-2920