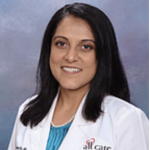 Bhiru Patel-Elio, MD
Family Medicine - All Care Medical Consultant, P.A.
---
Dr. Patel-Elio graduated the University of South Florida with Honors before earning her Medical Degree from Florida State University College of Medicine in Tallahassee, FL.
Dr. Patel-Elio completed Florida Hospital Family Medicine Allopathic Residency in Orlando, FL, where she was Chief Resident for a year. Dr. Patel-Elio holds membership in the American Academy of Family Physicians, and a certification by the ABFM.
Dr. Patel- Elio is especially interested in Diabetes and Hypertension management, and skin cancer evaluations with Biopsies and excisions, and skin tag removals.
Dr. Patel-Elio speaks Spanish, Hindi, Gujarati as well as English, and is very interested in Volunteer and Mission trips to serve the needy.
Practice Locations:
1)1745 S Highland Ave
Clearwater, FL 33756
Phone: 727-587-0377
2)8900 Park Blvd
Seminole, FL 33777
Phone: 727-545-4545
Fax: 727-548-1360
3)All Care Medical Consultants
1115 Florida Ave
Palm Harbor, FL 34683
Phone: 727-259-2300