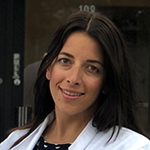 Michelle Gonzalez, MD
Internal Medicine - Michelle Gonzalez
---
Dr. Michelle Gonzalez completed her medical training at the San Juan Bautista Medical School in Puerto Rico. She then completed her residency at the University of South Florida, specializing in Internal Medicine.
Dr. Gonzalez is a member of the American Medical Association and the Tampa Bay Latin American Medical Association.
Dr. Gonzalez has hospital privileges at South Bay Hospital, and she is board certified in Internal Medicine.
Languages: English & Spanish
Practice Location:
108 S. Pebble Beach Blvd.
Sun City Center, FL 33573
Tel: (813) 633-6550
Fax: (813) 633-6551